Roborock S7 MaxV Ultra Fill Dock Mop Hot Air Dryer Module Pro Auto Empty Wash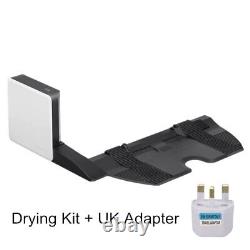 Original Roborock Empty Wash Fill Dock Smart Dryer Module Robot Cleaner Accessory Part Mop Drying For S7 MaxV Ultra App Control. High-speed heat and air drying: The Dryer Module brings drying efficiency to your Empty wash fill dock, with 45°C max heating and a high-speed centrifugal blower running that 3160rpm, preventing odors and providing a more complete hands-free experience. Multi-sensor protection: Designed with a fuse protector, temperature sensor, and infrared communication sensor, all working together to ensure safety, and preventing the unit from overheating floors.
Adjustable drying time: You can adjust the drying time on the app according to different ambient humidity. There are 3 drying time settings (2 hours, 3 hours, 4 hours), with the default being 3 hours. Smart drying with the Roborock app: Updating to the latest firmware and enabling the "auto drying" function within the app, the dryer module can intelligently judge whether the mop is wet or not, automatically turning on the drying function. Please note it is Chinese version but globally usable, we will send adapter according to different regions.
Meanewhile, this Drying Module actvates on app only for S7 MaxV Ultra, not for S7 Pro Ultra, so S7 Pro users have to manually press the button to make it work.