Original Circulating Pump Motor Dishwasher Beko Arcelik 1740704200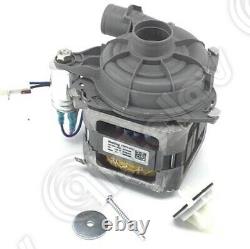 Original Circulating Pump Motor Dishwasher Beko Arcelik 1740704200. The description of this item has been automatically translated. Original circulation pump motor dishwasher dishwasher Beko Arcelik 1740704200. Heat pump dryer Washer dryer Dishwasher Washing machine.
Washing machine washer dryer dishwasher. White Gray Silver Black Red Green Beige Braun. Gray Silver Black White Baige. Circulation Pump Brand: BEKO Original Brand Code. Please be sure to compare the above data and photo(s) with your defective spare part.
Also check out my other items! -Factory code (starting with 76) followed by the commercial reference of the washing machine. 7643661635 DIS25011 BEKO 7648963935 DSS05011X BEKO 7630767335 DIS15Q10 BEKO 7616467335 CELV1048B8 EIGENMARKE 7639567335 DFS05011S BEKO 7639767335 DFS05011W BEKO 7673367335 LV10C49M19W PRIVATE LABEL 7649663935 DFS05012S 7680353935W BEKO 05024 DVS7639267335X BEKO 41 LVI7680453935F BEKO 05024 DVS7629667335W BEKO 05011 UDFS7648763935X BEKO 25010 DD DIS7616367335 BEKO 1048 CELV8S7625567335 PRIVATE LABEL 1048 NEW-CELV.
More of this product group. NEW Original drain pump Siemens drain pump pump 00145212, 145212 Copreci. Original door hinge springs cable Siemens repair kit 00623538 00627228. Original 1x cable pull cable door hinge dishwasher Bosch 611370, 00611370. Inlet hose Aquastop hose Eltek Type 100269 24 washing machine Studio WM 26.
Bauknecht Whirlpool Ignis Door Latch Door Lock DM DM569 569 569517. ORIGINAL Circulation pump motor DISHWASHER PRIVILEG nr 1882300400. Circulation pump motor KLARSTEIN IPX2 SN XW 14080370035 GALANZ GH30A-2S10.
Circulation pump dishwasher dishwasher Bauknecht GSC4. Capacitor Bauknecht Whirlpool Privileg 12NC 461971041472 ISKRA 24892 0.47uF. V-belt washing machine AEG Electrolux Privileg belt 5PJE 1200 132353100.
Original drain pump washing machine Siemens BOSCH MAXX WFL ASKOLL Mod. Siemens Bosch solenoid valve washing machine washer dryer T-nr 00171261 171261. NEW original brushes Siemens 13.5 x 5 x 43mm 4.8mm AMP, OT!
Dishwasher dosing chamber CANDY 41010202, 41010261, 41900461, 41900462. Original NEW drain pump Siemens Bosch 00611332 00620774 BLP3 00/002 205.962 3P.
Solenoid valve inlet valve Bauknecht Lunik valve part no. Capacitor rear door filter Bauknecht Iskra 12NC 461973089052 89072 KBP7325. Original door lock Bauknecht Rold series DA060 71038441 01, T85. New washing machine washer dryer Balay Constructa Askoll 00142370, 00145787.
Condenser washing machine Bosch KPL 3024 BSHG NR B107733 AB9. Pump washing machine Siemens Bosch Constructa pump 101/001C T. V-belt belt washing machine Gorenje WA belt 6EPJ 1278 Tnr. 3-fold solenoid valve inlet valve Bauknecht Whirlpool part 421253030020 39921G. Solenoid valve 33490125 DC62-00024F washing machine SAMSUNG WF8714 SAMSUNG P1481.
Condenser washing machine Siemens Bosch EN133200 BSH Nr 5500003746 KPL 3524. Heat pump dryer Bauknecht pump Hanyu B13-6AB03151 481070109852. 2 way inlet valve solenoid valve WASHING MACHINE HOOVER CANDY part nr.
Even if you don't like the item! Supplier of household appliance parts New and used parts. From recycled washing machines, Treckner, dishwashers. W PRIVATE LABEL Many consumers immediately opt for a new washing machine, dishwasher or dryer, although the repair of large household appliances is generally always more cost-saving and environmentally. Grau Silber Schwarz Weis Baige. Weiß Grau Silber Schwarz Rot Grün Beige Braun.